Stefano Domenicali
has declared himself confident of a
Ferrari
comeback in Canada, after a truly appalling
Monaco GP
.
For the first time since 1979, 2 Ferrari's locked out the front row in Monaco but poor weather and a series of bad decisions and accidents led Felipe Massa to finish 3rd and Raikkonen to finish 9th. With Lewis Hamilton winning the race, it pushed Raikkonen off the top of the drivers title race and heads were certainly convinced to be rolling back in Italy.
However, the team principal is sure his drivers can take the fight to McLaren in Montreal where Lewis Hamilton scored his first ever race win last season.
"It's easy to say but difficult to do it. For sure, in terms of preparation, we are much more confident of the situation ad hopefully it should be different from what we saw last year," said Domenicali.
"We want to be positive for Canada because we take the same kind of approach but we need to be humble because the competition is always very strong.
"As we always said, we mustn't forget that we won four races out of six, and that's something important. As I've always said, the championship will be very very long.
"In these conditions, you're going to lose some points, then the situation that happened with Lewis today means he's leading the championship, so it will be very, very long."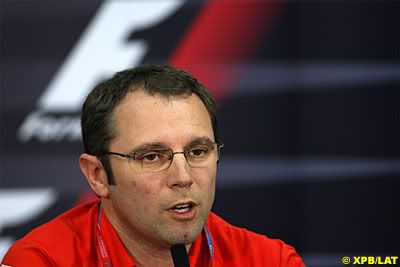 Credit to http://f1fanatics.wordpress.com